Call or text us today for a free no obligation quote – 07432121681
Guttering services, fascias & soffits cleaning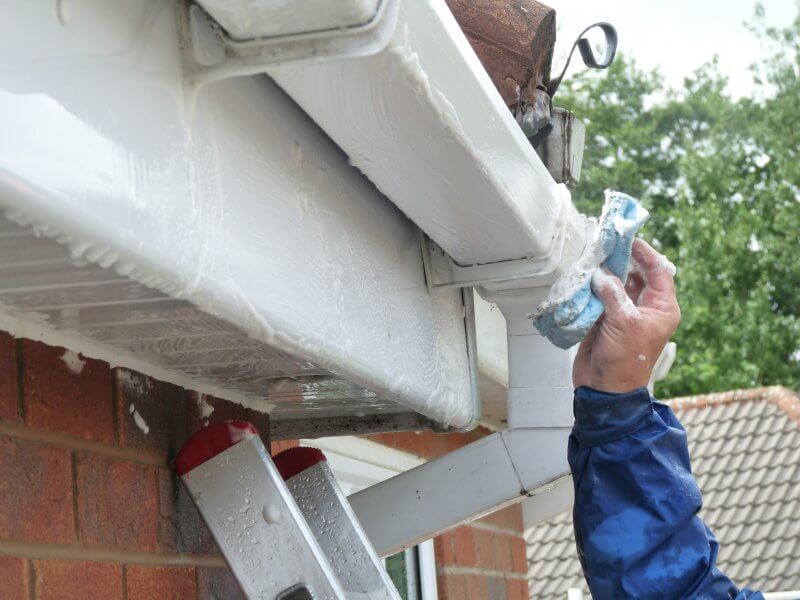 We provide affordable and effective gutter cleaning in Leeds removing all obstructions to ensure gutters are free of debris and allow for free flowing rainwater. Gutters easily become blocked with moss from roofs, leaves, twigs and all sorts of other debris. Blocked guttering soon causes dirty water to overflow potentially causing damp to buildings and dirty water leaving stains on the outside of your home. Water can penetrate the roof and exterior walls causing damage and structural problems. If the water freezes and expands the damage is even more severe. Yorkshire Window Cleaners clean gutters manually by hand for the most thorough cleaning. Operating from ladders means we are able to physically inspect the gutter and be certain that all blockages have been cleared. If rainwater is allowed to build up because of blocked gutters being under the sustained weight of the water can even cause gutters and downpipes to collapse. This article explains more about the damage clogged gutters can cause.
Fascias, Soffits and UPVC Cleaning Leeds
Our exterior cleaning services in Leeds for house and building exteriors includes cleaning of guttering, fascias, soffits and cladding. Our extendable water fed pole cleaning systems together with safe and highly effective cleaning products allow us to clean and restore the outside of any building. If white UPVC is neglected it soon begins to stain and blacken as a result of pollutants in the air and also green algae can colonise the surface. Our gutter cleaning and exterior services including fascias and soffits cleaning is available in Leeds on a one-off basis or as part of an ongoing cleaning and maintenance programme. We also clean windows , conservatories , solar panels and pressure washing external hard surfaces. Finally, we guarantee a quality job every time while providing competitive rates. Contact us today for a no obligation quote. What if you work all week, do you need to be home, or how do you pay? Not to worry, there are answers to these frequently asked questions here.