Call or text us today for a free no obligation quote – 07432121681
Professional, Reliable Window Cleaning Services in Leeds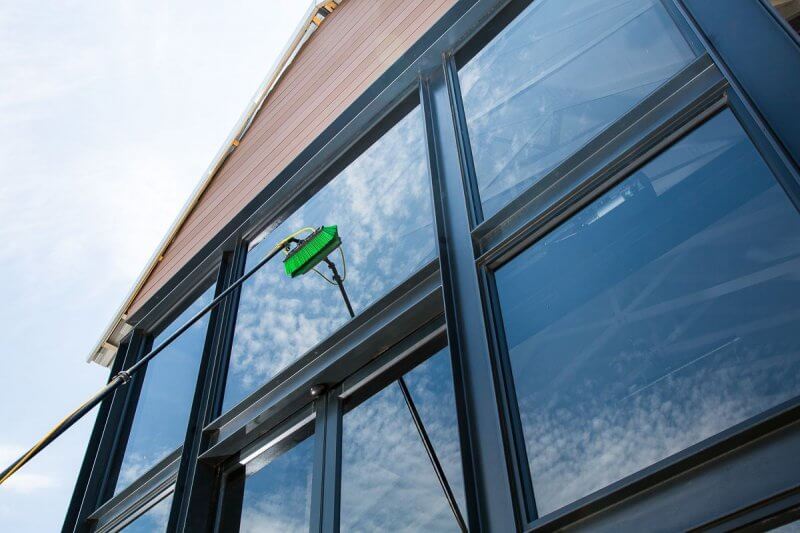 Yorkshire Window Cleaners provide reliable and affordable window cleaning services in Leeds to domestic and commercial properties. We are available for one-off window cleaning or for an ongoing service at a frequency of your choosing. We are an organised, customer driven and well established window cleaning company who can be relied on for a regular, year round service. Yorkshire Window Cleaners use both traditional window cleaning methods and the modern water fed pole systems with pure water to clean windows. We clean interior windows as well as exteriors for homes, shops and offices, so that your glass is sparkling inside and out.
Water fed pole window cleaning with pure water in Leeds
Water fed poles are longreach extendable poles through which purified water is pumped. It is sprayed onto the glass through a brush on the end of the pole and the bristles scrub the glass clean while simultaneously rinsing it with a constant flow of clean pure water. What is purified water? Normal tap water is full of minerals and impurities such as chalk and limescale which leave deposits of scale in kettles and can damage washing machines and other appliances. If tap water is sprayed onto a window and left to dry it will leave hard water deposits on the glass in the form of multiple spots. Pure water goes through a filtration process removing all the impurities. This gives it many commercial and industrial uses, one of which is it is perfect for ensuring crystal clear, smear free windows. After cleaning your glass, frames and sills the water is left to dry naturally for clean, shiny windows. The extra reach of the extendable poles means we can clean windows that are higher and in awkward, hard to reach places like above conservatories.
Traditional window cleaners – Leeds
Traditional methods involve using soapy water that is applied to the glass with a microfibre applicator and then removed using a squeegee. Any remaining water is wiped off with a dry microfibre cloth. This is how we clean inside windows and sometimes outside windows too. Neglecting your windows for too long will allow environmental pollutants and chemicals to build up on the glass. This consequently, leads to damage of seals, stains, possible leaking and big repair bills as a result. Having a regular window clean makes a huge difference to your property and will prolong the life of your seals and frames, therefore, reducing the risk of huge repair bills or leaks.
Commercial Window Cleaning in Leeds
In addition to our domestic rounds, we also provide a window cleaning service to commercial clients. We are fully insured and can provide both method and risk statements on request. Furthermore, we understand the importance of your business's reputation and appearance hence why we always wear a uniform, are reliable and professional. We are more than happy to discuss you needs, so please get in touch. We clean windows throughout Leeds and Leeds City Centre. Our commercial window cleaning includes schools, colleges, educational establishments, care homes, pubs, hotels, apartment blocks and offices. Our other exterior cleaning services include conservatory cleaning , gutter cleaning , solar panels . Finally, we guarantee a quality job every time with competitive rates so please contact us today for a no obligation quote.

What if you work all week, do you need to be home, or how do you pay? Not to worry, there are answers to these frequently asked questions here.